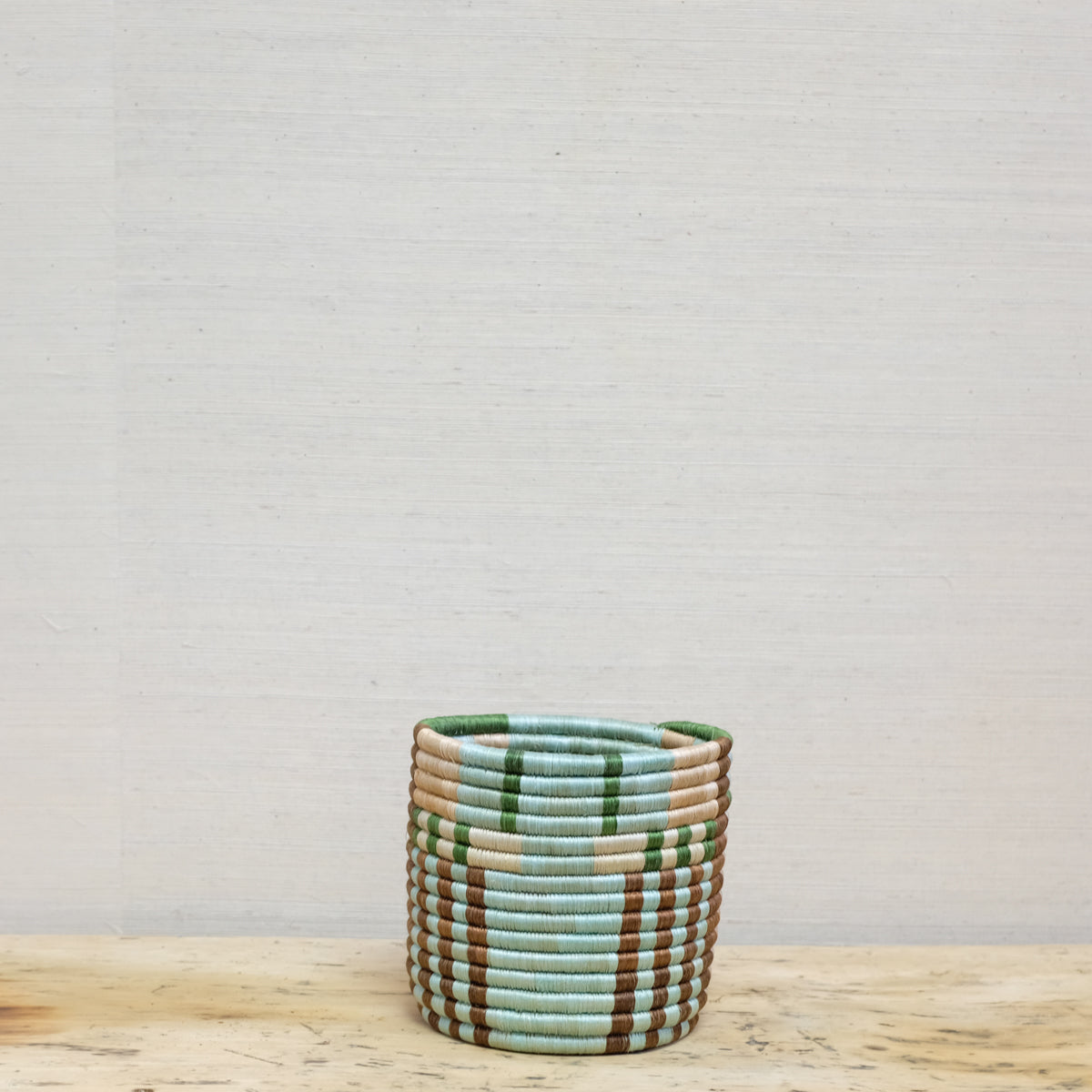 Handwoven Apricot & Seafoam Grass Planter
Made of the highest quality natural fibers in an ethical, fair trade environment, this woven planter is .......made by groups of women in intimate communities across Rwanda where sisal fibers are wound stitch by stitch around a small sweetgrass bundle.  Handwoven by a woman over the course of roughly a week in her home in remote regions of Rwanda.Handwoven natural sisal and seagrass planters in bright apricot, brown and seafoam green lines 
Small 4"W x 4"H
Medium 6"W x 6"H
These unique planters are ideal for adding a pop of color and flair to any home organization need or your favorite plant!
These handwoven planters can elevate any storage need, or fill it with your favorite plant.  Nestle the planter in a hanging macrame piece to create a jungalow escape at home.  These handwoven planters can even elevate bathroom storage by stashing brushes or toilet paper.  When walking into a room decorated with these planters you will find peace and serenity in the handmade weave, while the colors and texture will have you dreaming of exotic places to visit.  The possibilities are endless for this multipurpose piece!
A modern design crafted with a centuries-old tradition to form a textured and woven vase. Groups of women in small cooperatives across rural areas of Uganda in an ethical, fair trade environment weave together organically dyed grass and raffia using a sewing needle to achieve these incredible pieces of art that are unique per vase.
Beautiful on your wall or a table, solo or as a grouping, these handwoven baskets from Africa have a story behind them. The materials such as elephant grass, raffia, and sisal are grown by the weavers themselves and harvested within the community. The fibers are prepared and organically dyed before being tightly woven and stitched into incredible shapes and patterns. Mothers have been teaching their daughters this craft for hundreds of years, and what a delight that we are able to enjoy their handiwork.
Small 10" diameter
Medium 12" diameter
Large 14" diameter
100% Fair Trade
Sold separately.